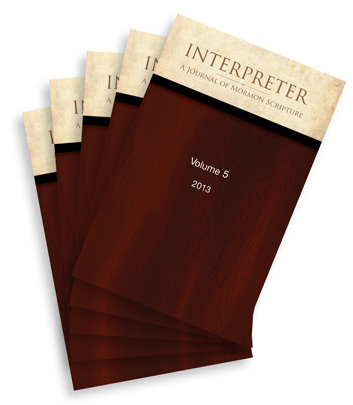 The Board of The Interpreter Foundation is very pleased to announce that we are now offering an annual subscription of our print volumes. Utilizing the latest innovations in print-on-demand technology and in shipping and inventory management, we have partnered with one of the foremost print providers and distributors in the country to offer this service to our readers.
With an annual subscription to Interpreter: A Journal of Mormon Scripture you will receive professionally bound paperback copies of our journal volumes in the mail, automatically, shortly after they are finished being compiled. Once each volume has been finished, it will be shipped direct to your door. These are identical to the individual volumes available for sale on Amazon.com, but with a subscription you will not need to order each volume individually.
We estimate that we will produce four or five volumes annually of the journal, or about one volume every ten or eleven weeks, and all volumes produced in a year are included in your annual subscription. The first volume to ship to subscribers will be Volume 5, which was finalized at the end of June, and which we hope to ship later this month in July. Your subscription will start from the day you subscribe, and go through the same day of the following year. For example, if you subscribe on July 6, 2013, then your subscription will go through July 6, 2014, and you will receive all print volumes completed during that time period. Your subscription will automatically renew after a year unless you unsubscribe.
Each subscription is $50* annually (U.S. dollars). You may purchase multiple subscriptions at once, if you would like multiple copies of each volume. Please contact us if you'd like to order more than five subscriptions, or if you are a retailer. The $50 price is carefully calculated to cover the cost to print the volumes and shipping and handling only. There is no other markup or royalty included in the price. Additionally, this print subscription is available to all our readers living internationally, at the same price.
Please note that this print subscription should not be viewed as a donation to The Interpreter Foundation since it covers cost of printing and shipping only. If you would like to donate to the foundation, please go to the Donations page or click on the "Donate" button on the subscription page. We strongly encourage and ask our subscribers to donate to The Interpreter Foundation, before or after subscribing, to help defray the costs associated with preparation and publication of Interpreter, as well as the other activities of the foundation such as the production of videos, symposia, and books.
Please help spread the word about this new subscription offering from The Interpreter Foundation with your family and friends, and others you know who are interested in Interpreter, so that we may quickly meet the minimum order quantity required for our first shipment.
Click here to go to the subscription webpage to subscribe.
If you have any questions or comments about this new print subscription, please let us know in the comments below, or by contacting us via our Contact page.
Thank you for your continued support of The Interpreter Foundation.
*Note: Originally the annual print subscription was priced at $35 per year. In order to offer the subscription at that price we had to meet a minimum order threshold. Although we are well on the way to reaching that minimum, we have not yet crossed the threshold, meaning that the cost will be $50 per year instead of $35.