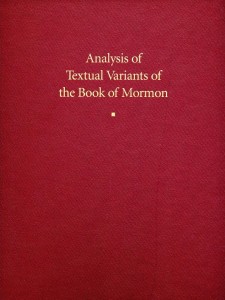 The Interpreter Foundation is very pleased to announce the publication of the online edition of Volume 4 of Royal Skousen's Book of Mormon Critical Text project, Analysis of Textual Variants of the Book of Mormon, or ATV. This online edition includes all six parts of this monumental volume, and we are grateful and delighted to host it on the Interpreter website. It will be freely accessible to view, search, and read in its entirety on the website.
In an introductory message about this new edition, Daniel C. Peterson, Chairman and President of The Interpreter Foundation, commends this work:
"I've long considered Professor Skousen's project one of the most impressive scholarly undertakings in the history of the Restoration, and, given its subject matter alone, it's plainly among the most significant."
Please click here to read the full message, including more details about this new online edition, and to access the volume.